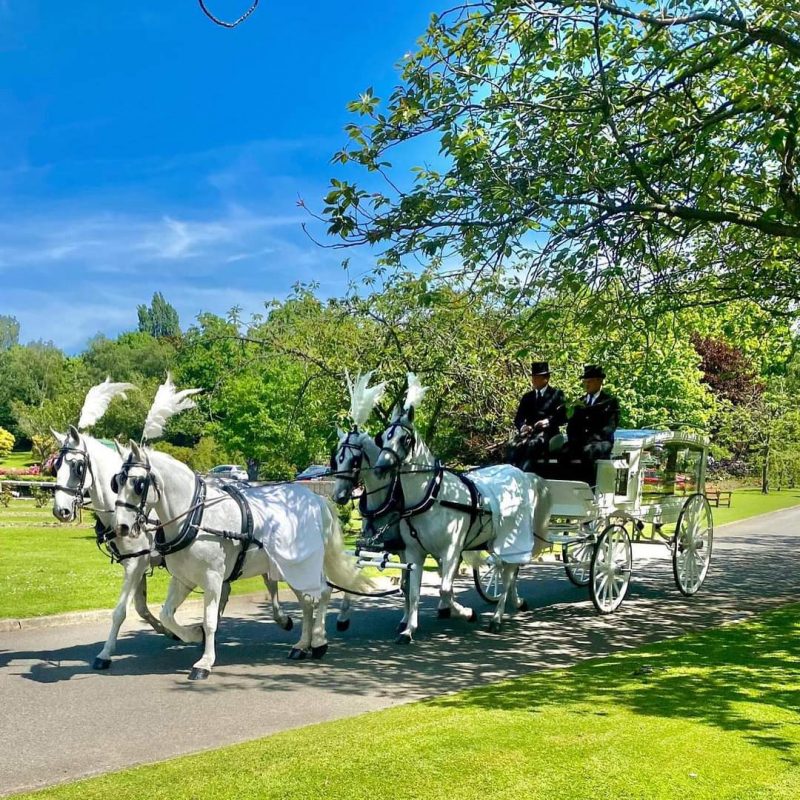 Mercedes-Benz Hearse £250.00
Mercedes-Benz Limousine £195.00
Additional Transport for funeral staff £70.00
Horse-Drawn Hearse with two Black/White Horses £795.00
Horse-Drawn Hearse with four Black/White Horses £1500.00
Horse-Drawn Dray £695.00
White Horse-Drawn Mourners Carriage £695.00
Provision of two outriders £600.00
The horses' plumes and drapes come in a range of colours for you to choose from.
The Motorcycle Hearse is a perfect option for those who preferred life on two wheels rather than four. Four models are available Triumph Bonneville, Speed Triple & Thunderbird, Suzuki Hayabusa and Black Harley Davidson Road King.
Triumph or Suzuki £900.00
Harley Davidson £1030.00
There will be a further charge for transport of our staff depending on what vehicles are required to accompany the above.
Transferring your loved one to Church or home during office hours. £150.00
Transferring your loved one to Church or home outside of office hours. £200.00
Arranging and conducting the interment of cremated remains at a local Church or Cemetery. £70.00
Provision of an additional member of staff on a funeral or transfer to maintain safe working practices. £55.00
A temporary oak grave marker with engraved plaque. £50.00
Additional Professional Fees
We reserve the right to charge additional fees in exceptional circumstances where extra time and involvement is required to fulfil our Clients requirements and expectations.
Saturday funeral surcharge. £200.00
Funeral plan administration fee. £275.00